Trans Chat Site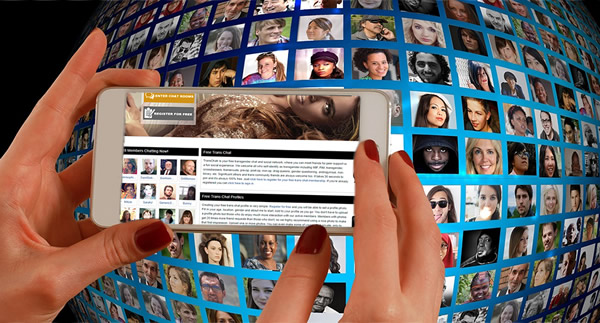 Live Trans Chat, Browse Profiles, Private Messages & Photo Swaps!
Our free trans chat site is now online! Join our adult transgender chat 24/7 on your desktop or on your mobile. Our live chat visitors join in from all over the world. We are open to the entire transgender community including crossdressers, transexuals, drag queens, gender fluid, non-binary, gender variant, genderqueer, intersex and trans community friends or allies. Come as you are whether you're pre-op, post-op, heterosexual, homosexual, bisexual or however you identify. You're welcome here.
Trans Chat Site & Social Network
It's so more than transgender chat site! It is a full-blown trans social network where you can share your hottest private photos, search for local trans community friends, browse or post in the transgender forums and jump into the live chat rooms with other members. The live trans chat is also available to you on mobile for fun and friendship on the go. Then you can join on your desktop and spend time getting to know new transgender friends.
Adult Trans Chat Rooms
Our trans chat rooms offer something for everyone in the transgender community. You will find a fun and friendly social experience for transgender members, community allies and admirers. You will find a variety of transgender friends who are willing to offer friendship while you explore your place in the trans community. Join our trans chat site for instant access to everything and it's all 100% free!

Join the free trans chat for instant access where you can browse hundreds of thousands of members, flirt with hotties, swap pics and join the trans discussion forums. The transgender chat is always free so you won't ever need to worry about paying for your social networking membership. It's time to get your flirt on and meet some awesome tranny friends today.
Trans Chat Site Rules
There aren't a lot of rules but we need to be sure the trans chat flows smoothly. Please read through the transgender chat rules. Join the conversations and get to know the other members. There are some great community members who will be happy to chat with you. If you have any questions just ask other members or one of our friendly moderators. Sign in or join our trans chat site for free!